Implicit Bias Training 1 Hour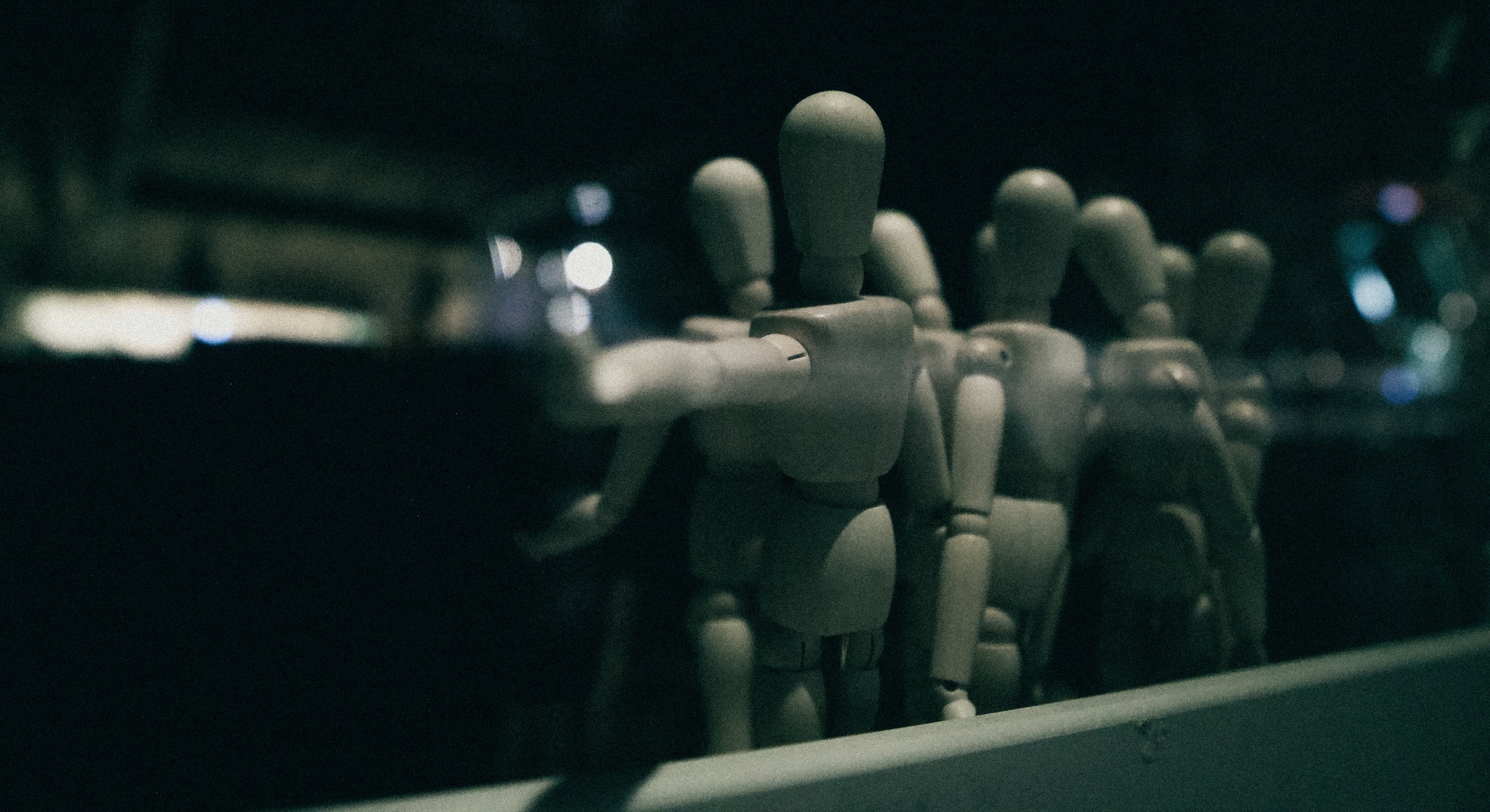 About the course
This 1-hour course meets the requirements for implicit bias training for nurses and pharmacy providers in Michigan. This course has a pre-test and post-test, a LIVE, interactive webinar and meets the Michigan requirements in the Licensing and Regulatory Affairs Public Health Code Rules: R 338.7004. The webinar portion of this class is live and interactive and can be completed on your phone, tablet, or computer. The live webinar portion is under 10 minutes and offered frequently for your convenience.

Webinars occur Wednesday, Thursday and Friday, see the schedule: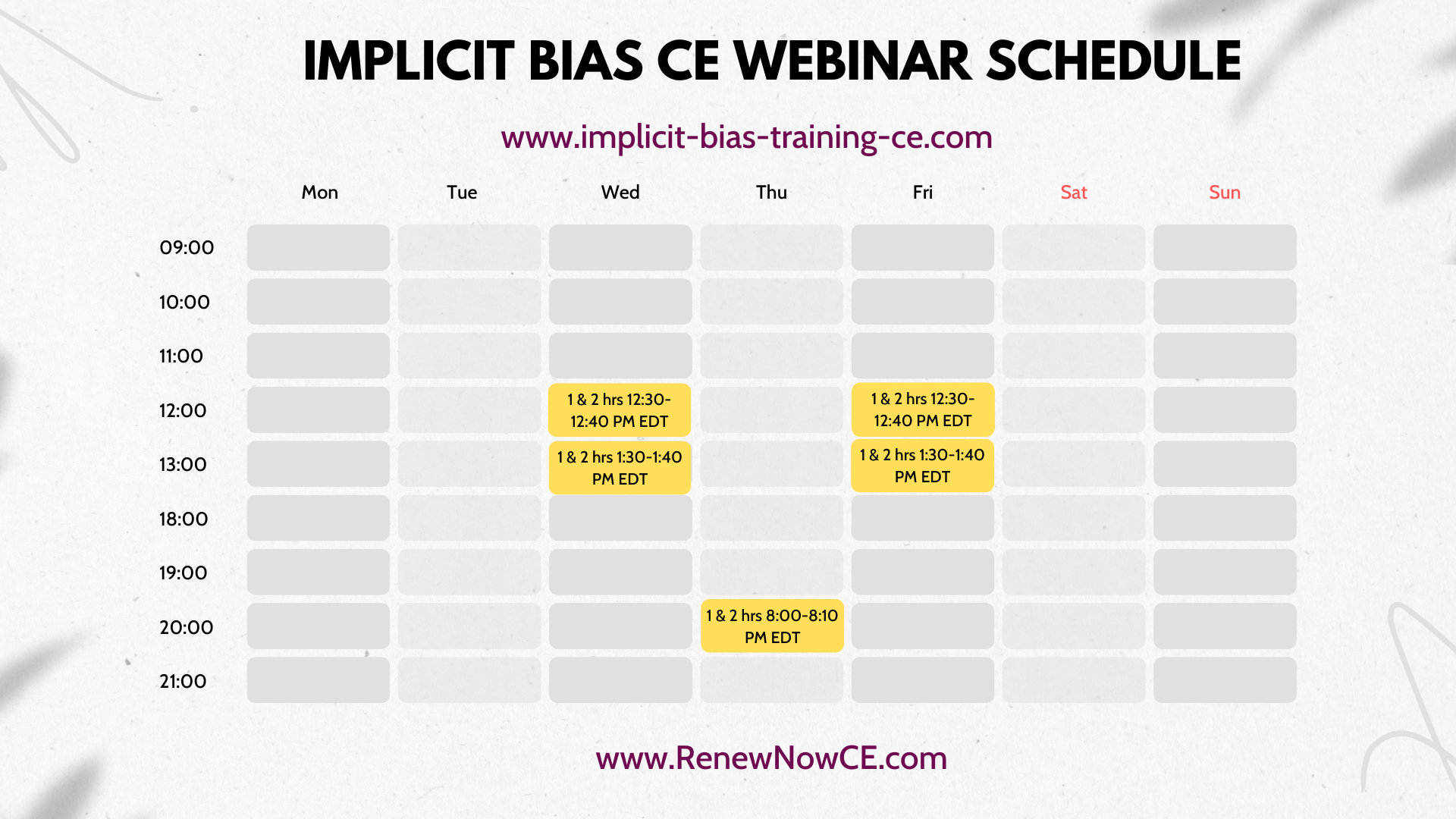 Need 2 hours? Link for our 2 hour implicit bias course.

Renew Now CE is an accredited provider through the American Nurses Credentialing Center's Commission on Accreditation (ANCC) Provider P0557 and the Michigan Board of Nursing and Pharmacy 50-18921. Each of our courses is designed for efficiency and learner confidence. Come experience why our learners rate us 4.7 out of 5 stars!
Here is how this course works:
1. Choose a course with the date and time window for the webinar that works for your schedule. Sign up and pay for the course that works for your schedule. See upcoming course offerings: Implicit Bias Training CE schedule (Link)
2. Once enrolled in the course you will be able to view course content and the webinar link (be sure to log in early or pre-register, you'll need to enter your name and email, more info on webinar below).
3. Upon completion of the webinar, you will be able to take the final test and upon passing, a certificate will be generated. Your course results will automatically be sent to CE Broker.

- We will be using GoToWebinar. The link to the webinar is in the course and available once you've registered.
- You can join our session by using a Mac, PC or a mobile device.

- You'll need to enter your name and email, so be sure to sign in early or pre-register and join our next session.
What happens if I cannot make the webinar time I signed up for?
Email us at hello@renewnowce.com and we will send you an upcoming webinar link. To view all upcoming course offerings and webinars, visit this page: Implicit Bias Training CE schedule
Choose this course with confidence. Our courses meet the guidelines from the Michigan Licensing and Regulatory Affairs (LARA) board for the implicit bias training requirement: Link to LARA
Course Author & Planning Committee Conflict of Interest Disclosures: Joanna Nolte, APRN, MSN, and Tamarah Jungklaus, APRN, MSN, have no conflict of interest or disclosures.
Learning Objectives:
1. Upon completion of this activity the learner will correctly identify the definition of implicit bias.
2. Learner will acknowledge that implicit bias impacts perception and performance in delivery of care.
3. Learner will have working knowledge of current research on implicit bias.
4. Learner will correctly identify strategies to promote equity in the provision of healthcare services.
This course includes
Money back guarantee
Certificate of completion
Mobile ready
Course save progress