Great news! Nurses are credited with intercepting 50 percent of preventable adverse drug events [1]. But first, pharmacology, often mentioned by nursing students as the most challenging subject, must be mastered. Pharmacology requires repetition and exposure to master.
The first six months of being a nurse you begin to memorize and use both the generic and brand name of drugs interchangeably. Nurses often learn by making mistakes. You can master meds safely on the phone app, Med Pass Practice, by testing yourself with 750 questions on medications.
You cannot memorize everything, but there are some wonderful tricks, like the prefixes and suffixes, to help you remember and identify entire classes of drugs.
The questions in Med Pass Practice are designed with feedback to help you learn these memorization tricks.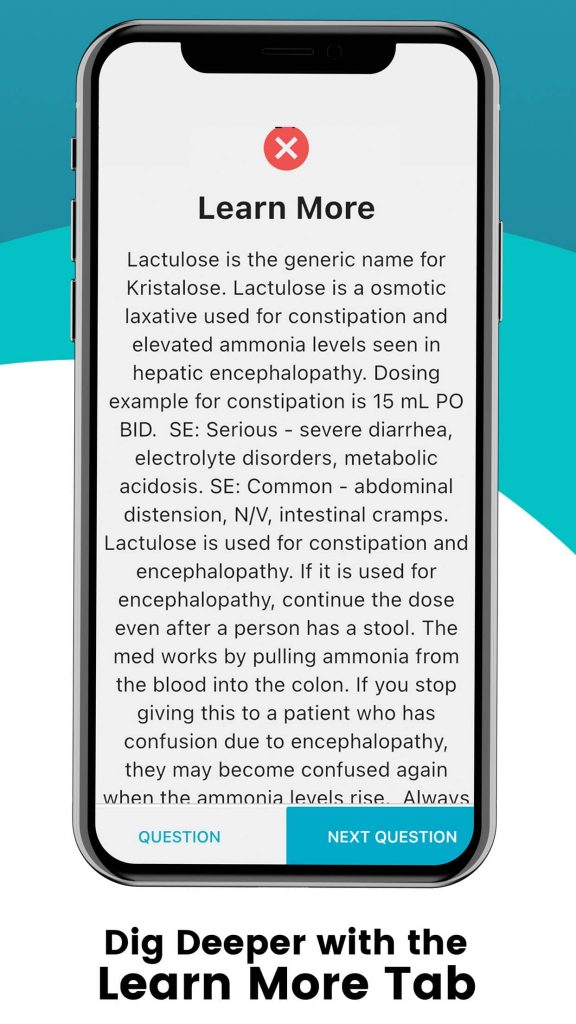 Find out more about the app on MedPassPractice.com.
The Adult Med-Surg section on Med Pass Practice contains questions on 125 common med-surg medications.
Try it out! Download the app for free and test yourself on the first 25 Adult Med-Surg meds (level 1). If you like it, full app access is $2.99 per month.
Download on the App Store
Get it on Google Play
You can study with flash cards:
Quiz yourself on medication brand vs generic names, indication, mechanism of action and what to know items, like side effects and administration:
1. Leape, L.L., et al., Systems analysis of adverse drug events. ADE Prevention Study Group. JAMA, 1995. 274(1): p. 35-43.